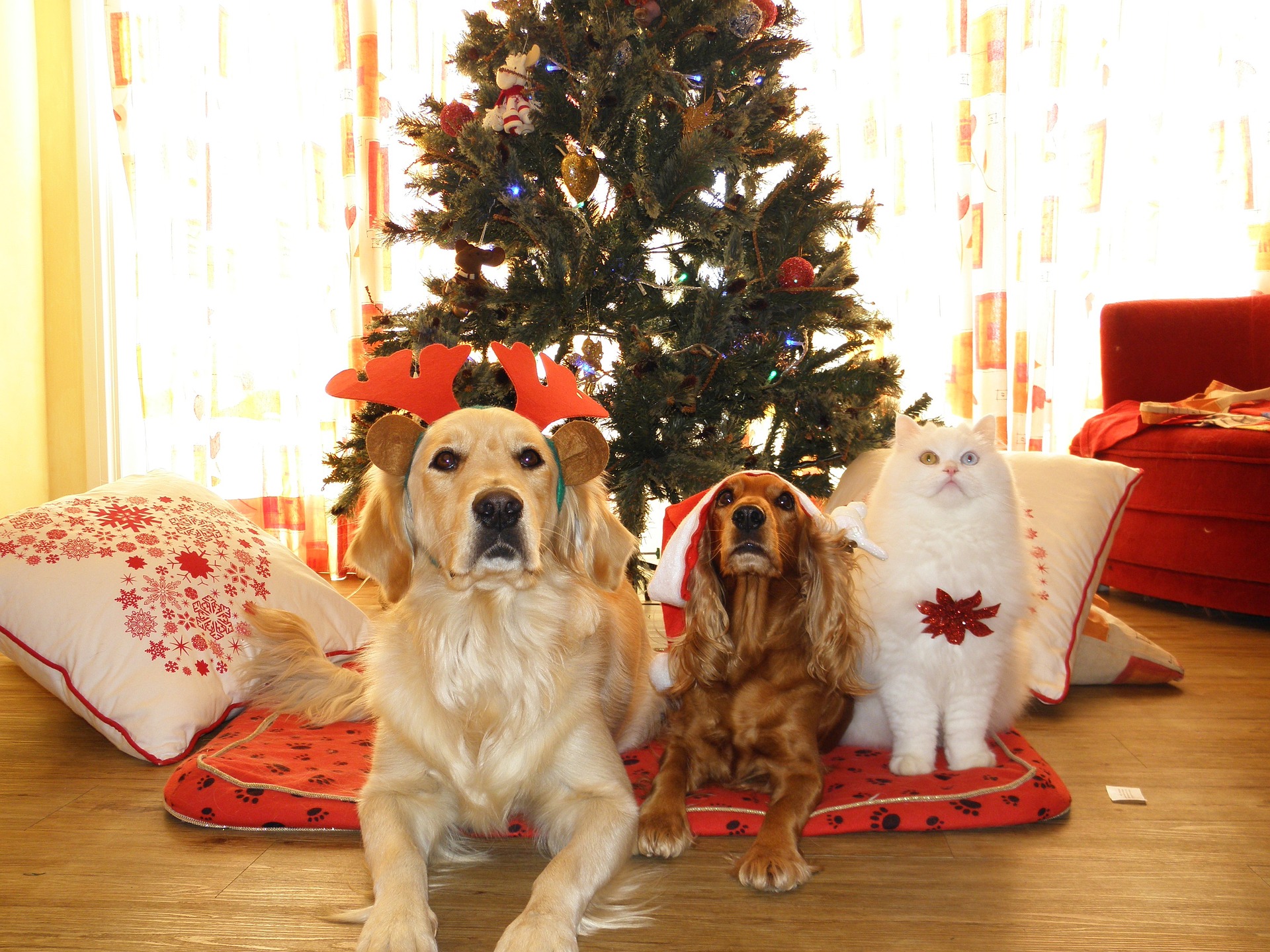 Holiday Pet Safety Tips
The Christmas holiday season is upon us and can be both a very joyous and stressful time for both us and our furry family.  Here are a few tips to ensure your pets are safe and comfortable and can enjoy the season.
If you are having friends or family come to your home to celebrate ensure that you make them aware how to approach and interact with your pets.  For example, let people know if your pets don't like certain parts of their bodies touched or if your pets are shy and prefer to approach people when they are ready rather than be approached.
Ensure pets are comfortable by following these tips:
Exercise your pets before guests arrive
Set them up a comfortable spot where they can escape the noise of chatter, present unwrapping or popping crackers
A good safe space for them to escape could be in a quiet room or corner
Make sure pets always have a way to move to their safe space
Put their bed in the safe space and give them familiar objects such as toys or treats
Play soft calming music in this space
If you decorate your house, make sure decorations are pet safe by:
Making sure you don't have any poisonous plants such as lilies, poinsettias, and mistletoe in reach
Avoid glass or breakable ornaments as they can be knocked off and can break in pets' mouths causing severe injuries
Keep tinsel, bows, and ribbons out of reach. If ingested by pets they can block intestines
After unwrapping presents make sure papers, ribbons are put away out of reach
Anchor Christmas trees so they cannot be knocked over
Keep electrical lights and cords out of reach so they can't be chewed and cause an electrical shock
Make sure that pets don't enjoy too many of your Christmas treats:
Ask friends/family to let you know if any packages or gifts include chocolates so that you don't put them under the tree. Dogs have good sense of smell and will try to break into them, and chocolate is poisonous for your dog.
Don't feed table scraps of fatty foods to your pets as they may cause upset stoaches or pancreatitis. Some specific dangers foods are alcohol, avocado, chocolate, mince pies, Christmas pudding, coffee, cooked bones, currants, fruit cake, grapes, gravy, ham, lollies, macadamia nuts, marinades, onion, pork, raisins or sugarless gum.
Don't hang edible decorations such as popcorn garlands or candy canes on the tree as they provide unnecessary temptations and may cause pets to knock over the tree
Ensure your pets don't miss out on all the fun by creating some treats especially for them and either create a treat treasure hunt or put some treats in a Kong.  Play special games with them that they enjoy!
Remember that if you have travel plans over Christmas to contact us as soon as possible to make sure we can fit your pets into our schedule.   We are booking up fast so give us a call today!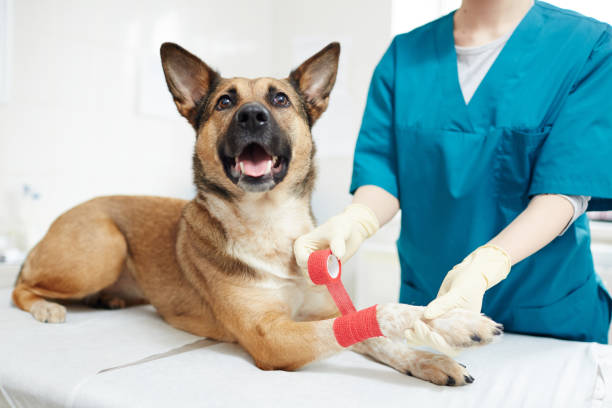 How to Create Your Own Pet First Aid Kit
In a pet emergency, preparation can make the difference between life or death. If you know what to do to respond and how to deliver your pet first aid then they have a much higher chance of survival.
There is a protocol called DR ABC to remember when arriving on the scene of an emergency.
This stands for :
Danger – keep yourself and the pet out of harms way by making sure you are out of traffic and away from people. A pet that is in an emergency or placed into pain by applying bandages or wound cleaning can and will bite. Make sure that you muzzle the pet to protect yourself from bites before providing first aid.
Response – check if the pet is responsive calling their name and by touching them. Make sure you have visual contact before touching as you don't want to startle them. This will identify if they are conscious or unconscious
Airway – is the airway clear. Put your hand under the chin of the pet and extend the head back to open the airway. Check in the mouth to see if you can see any foreign objects.
Breathing – is the pet breathing. You can check this by watching their chest to see the rise and fall, listening close to the mouth for air movement, and feeling for air movement.
Circulation – check to see if the pet has a pulse by placing two fingers on the inside of pets leg to feel for the femoral artery.
One you have determined the physical state of the pet – then you can move on to determine the next step. If the pet has a pulse and are breathing then your next step is first aid for another condition such as bleeding, heat stress or an insect or snake bite. If they have a pulse but are not breathing, then the next step is rescue breathing. If they have neither pulse or breath then the next step will be delivering CPR to the pet.
There are many pre-assembled pet first aid kits available on the market to purchase but you can easily create your own from items found at your local pharmacy.
Your basic first aid kit should contain the following items:
• Storage container to keep your other supplies inside
• Muzzle
• Bandages – roll and square gauze for applying pressure to wounds and absorbing fluids
• Blunt-ended scissors for cutting bandages, tape or to cut fur away from wound sites
• Sterile saline solution for washing out wounds or flushing eyes, ears or mouth
• Tweezers to remove embedded objects from wounds
• Cotton wool balls for bathing wounds or applying pressure
• Self-adhesive tape for keeping bandaging in place
• Vinyl gloves for your protection
• Antiseptic wipes
• A blanket to use as a stretcher or to put under your pet for comfort
• Pocket torch for easier inspection of ears, nose or mouth
It's a good idea to keep a pet first aid kit in your home and a smaller kit in your car.
In an emergency you also want to have your vets number close at hand. It's a good idea to keep your vet's number stored in your phone, in your first aid kit and on your fridge.
Once you have administered first aid to your pet it's always a good idea to have them checked over by your vet. This is especially important if they have symptoms of shock, seizures, choking, unconsciousness or arterial bleeding.
In the future we will be running pet first aid classes for our House and Pet Sitters clients. These will show you practical skills such as applying bandages, delivering rescue breathing and CPR and discuss how to respond to bites, heat stress, shock, and fractures.
Pets, Pets, Pets and Me!
Pets, pets, pets, they are my family. They make me smile, laugh, puff and cry. Each and every animal I come across has a different personality and they always make an impression.
My name is Jenny Hodder and I am a pet lover, pet carer and pet advocate. This means I am well equipped with stories, information and abundant resources about our two, four and even no legged animal friends.
I have worn a number of hats over the years but the one I am most passionate about is, surprise, surprise, caring for pets and combining this with assisting pet owners.
For the past eight years I have owned and run House and Pet Sitters.
My pet-family is over 1,000 strong so, what better way to share my passion than to inform and entertain our clients, supporters and fellow-pet lovers about pets of all shapes and sizes as well as animal-related topics and everything in between.
Welcome to the House and Pet Sitters Blog – Enjoy!
We love & take care of pets of all shapes and sizes
You love your pets and would like nothing more than to take them with you when you go on holiday. But sometimes this isn't always possible, especially when you pets are sea anemones.
One of our regular and beloved clients owned a fish tank with some uncommon inhabitants. As well as beautiful fish there are sea anemones in the tank.
This makes for a slightly unusual house and pet sitting job – a cat, a dog and four sea anemones! Yes, that's correct sea anemones – like in 'Finding Nemo'.
For the sitter, Karen Lacheta, the job involved hand feeding the sea anemones at times set out by the owners.
Sea anemones come in a variety of shapes, colours and sizes and often look like flowers.
In the ocean sea anemones, which are related to coral and jellyfish, attach themselves to the sea bottom or coral reef and wait for fish to swim close enough to be ensnared and immobilised by their venom-filled tentacles.
With this in mind, Karen carefully followed the routine of holding small fish close to the sea anemones.
The sea anemones literally reach out with their tentacles and take hold of the food and slowly pull it in to its mouth.
Karen said the process was fascinating to watch.
"Hand feeding sea anemones is not something I have done before," she shared.
"However after spending time and receiving instructions from the owners it was quite straight forward.
"I found it very interesting to watch."
Do you have an unusual pet? If so, what do you do to take care of your pet/s when you go on holidays?
Who could resist these gorgeous faces?
We have the privilege of looking after some precious animals and we make it our priority to love them as much as their owners do. Our sitter Trish looked after Jaffa and Jock (pictured) in May 2014. How cute are these two?
This is what their owner Tahy had to say about the HPS service provided;
"Trish was an excellent house sitter. She sent me through pictures daily of their walk which gave me peace of mind that my best friends were in great hands and getting well looked after. The house was clean and tidy and I will be requesting Trish when I go away again."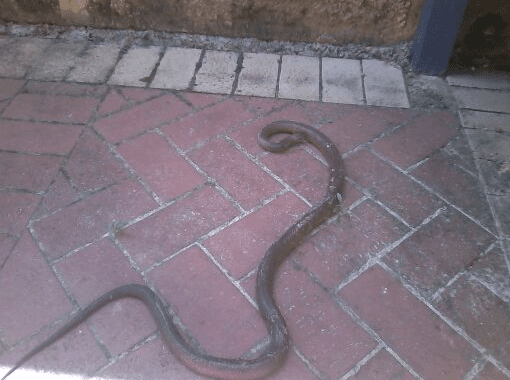 Sitters Save Dixie after Snake Bite
House and Pet Sitters have a timely warning for pet owners that snake season is upon us as HPS sitters saved the life of a client's beloved pet thanks to their quick response to a snake bite in the back yard.
Marynka and Mavelin were house and pet sitting in Jane Brook recently when a commotion outside caught that attention of Mave. When she went to check on the brother and sister Airedale Terriers, Dixie (7) and Murphy (4) she found Murphy playing with what she thought was a piece of rope, swinging it from side to side in his mouth like a toy.
When the 'rope' started to move Mave realised it was a snake (a 1.2metre dugite) and tried to coax the dogs inside.
"Murphy is a good boy and when called often brings his toys inside with him," Mave explained.
"So when I called them in, he tried to bring the snake inside too, because to him it was a play thing.
"After more coaxing and instructions I managed to get them inside. Everything happened so quickly and in the commotion Dixie grabbed the snake by the head and was bitten."
Snake venom takes affect quickly and with a pre-existing heart condition Dixie was very lucky Mave was home and that Marynka was able to leave work immediately, get home and drive both dogs and Mave to the vet.
Mave bravely picked up the snake, put it in a pillowslip and took it with them so vet staff could accurately identify it.
Marynka said Dixie was clearly affected by the snake bite and lost strength in her back legs.
"As we drove to the vet she became sluggish and her breathing was short," Marynka detailed.
"Murphy watched his sister closely when we were in the car – he was very concerned.
"We called the vet on the way and staff met us on the verge. They took Dixie straight in and had plenty of people working to take care of her. We received regular updates which was great and meant I was able to update Dixie's owners.
"We got Dixie to the vet in less than an hour and it took four viles of anti-venom to save her.
"We were in tears in the waiting room. Thankfully the vet staff were amazing.
After the experience Marynka has warned pet owners to have a plan in place in case something like a snake bite happens.
"Having a system in place is really important, as well as a back-up plan," she said.
"We called the Dixie's vet however they were fully booked and couldn't fit us in. Thankfully they were able to recommend another veterinary practice and fortunately Midland Vet have dealt with a handful of snake bites in the past couple of weeks so they were well equipped to handle the situation.
"Also, Dixie and Murphy's parent's installed a snack barrier in the back yard to protect the dogs because there is bushland nearby. However, the dugite came up the driveway.
"After all the excitement we are just so glad Dixie is ok and back home with her parent's and her brother Murphy."
House and Pet Sitters are so proud of the Mavelin & Marynka's quick thinking, team work and compassion in handling this situation.
USEFUL LINKS FOR MORE INFORMATION 
Department of Parks & Wildlife  
There are a number of groups that catch snakes – simply search online or visit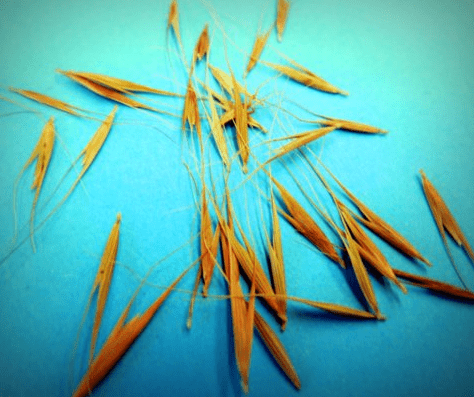 Watch out for grass seeds on your furry friends
A warning from a Subiaco Vet Summer Newsletter about the discomfort grass seeds can cause your furry friends.
With the warmer, drier weather approaching, grasses are starting to produce these tricky little things, and we are seeing more and more grass seed related issues.
Grass seeds, prickles and burrs can cause a lot of harm, as they tend to very readily make their way into ears, eyes, up noses, down throats, between paw pads and even stab right through the delicate skin of our furry friends!
They can cause painful ear infections, ruptured eardrums, wounds, nosebleeds and abscesses, many of which require medications or surgery to resolve – none of which are good for either your pet or your pocket!
The keys to surviving grass seed season:
Keep your own backyard well-groomed.
Try to avoid taking your pet walking through long grass.
If your pet has long fur,?have them groomed shorter through the warmer months.
Be especially vigilant with keeping your pet's feet well-groomed
After trips outside, give your pet a THOROUGH going-over.
Brush your pet's fur often and keep tangles away.
If you notice any head-shaking, paw-licking, odd wounds, lumps, bumps etc please you're your vet and have them give your pet a thorough check-over.
Grass seed injuries are largely preventable if you are vigilant! Remember, the earlier we catch these tricky little things, the more we can minimise the very substantial damage they're capable of.
BE PROACTIVE WITH YOUR PET AND HELP THEM TO GET THROUGH GRASS SEED SEASON INJURY FREE!
Enjoy the summer with your furry friends and all the best for the festive season from the team at House and Pet Sitters.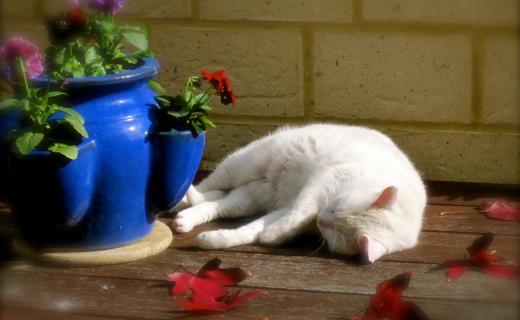 Winter Pet Tips
Remember how you feel when you wake up on those cold winter mornings snuggled up in your bed, reluctant to break the seal and let the chill in? Well, our two and four-legged pets also feel the cold and need some extra help to protect themselves at this time of the year.
Here are 10 things to remember:
During winter, outdoor cats sometimes sleep under the bonnet of cars to stay warm. When the car is started, the cat can be injured or killed. Just in case bang on the car bonnet before starting the engine to give your cat a chance to escape.
Avoid trimming or shaving your pooch down too close to the skin in winter. Having a longer coat will provide increased warmth. It may be more challenging at bath time but remember to s/he is completely dry before heading out for a walk.
An option for shorthaired breeds is a dry-as-a-bone or coat that covers your pooch or puddy from the base of the tail to their belly. There are plenty of varieties and pet dress-ups can be cute and fun (as long as your pet is warm and comfortable).
Cats and dogs should be kept inside during cold weather. Just because our fur-babies have fur doesn't mean they don't feel the cold. Being outside in the cold without protection can lead to an unhappy and unwell pet.
With pets spending more time inside it's important to pet-proof your home. For example keep an eye on pets around freestanding heaters. If the heater is accidently knocked over it may burn your pet or start a fire and we wouldn't want that.
Endeavour to keep birdcages away from drafts.
For outside pets make sure his/her shelter is wind and waterproof and their bed should be off the ground to minimise heat loss. Remember to change the blankets often.
Make sure they have access to fresh water feed them well. Keep your pets at a healthy weight and consider feeding outdoor pets slightly more in winter so they can generate enough body heat and energy to keep them warm.
Exercise for dogs is still important during winter. Yes, it may take something to get out of bed but both you and your pet will benefit both physically and mentally.
Our beloved pets are more susceptible to illness during winter because their immune systems are a little bit lower due to exposure to more stressful situations caused by the colder weather. With this in mind, keep an eye on your pets and if in doubt visit your local vet for a physical examination.